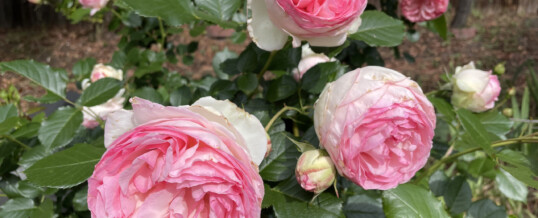 Each week I settle into my favorite chair to gather poems that might resonate with our class theme. I always find my body-mind-heart uplifted, soothed, somehow renewed. And then, together in class, we share in the poem's invitation.
The Space Between
Silence (Langston Hughes)
I catch the pattern Of your silence Before you speak I do not need To hear a word. In your silence Every tone I seek Is heard.
The Awakened Heart
One More Chapter in Letting Go (Rosemary Wahtola Trimmer)
Today it slipped into my daughter,
the seed that all is not right in the world.
In a matter of hours, already
the tap roots had grown beyond
my ability to pull them out.
I wonder if I have been wrong…(entire poem here)
Awe and Appreciation
Theme inspired by awe-inspiring article Be Here Wow! (Wes "Scoop" Nisker) Audio version read by Wendy Beckerman (15 mins)
What Issa Heard (David Budbill)
Two hundred years ago Issa heard the morning birds singing sutras to this suffering world… (entire poem here)
Everything That Was Broken (Mary Oliver)
Everything that was broken has
forgotten its brokenness. I live
now in a sky-house, through every window the sun… (entire poem here)
"There are two ways to live your life; One is as though nothing is a miracle. The other is as though everything is a miracle." ~ Albert Einstein
"One cannot help but be in awe when one contemplates the mysteries of eternity, of life, or of the marvelous structure of reality. It is enough if one tries merely to comprehend a little of this mystery every day. Never lose a holy curiosity." ~ Albert Einstein
"Tension is who you think you should be; Relaxation is who you are." ~ Chinese Proverb
"It is only with the heart that one can see rightly. What is essential is invisible to the eye." ~ Antoine de Saint-Exupéry (from The Little Prince)
Share